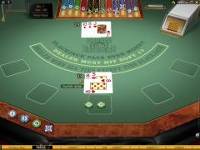 Double exposure blackjack is a style of blackjack but all of the cards are dealt face up...exposed...hence the name. Other than that the rules are a bit different too offering the house the advantage. Rule changes include, obviously that all cards are exposed, with the exception of a natural blackjack the dealer wins all ties, and the player can only split once.
The basic strategy for Double exposure blackjack are different because the player can see dealer cards 11 to 20 and because the player loses all ties except blackjacks. For example, two ten-value cards are split whenever the dealer has 13 through 16, and a hard 20 must be hit if the dealer has a 20. Another name for this game is Zweikartenspiel.
Double Exposure Blackjack is another interesting series of blackjack variations designed by Microgaming who just so happens to be the world leader in online gaming software. The other aspect of this game that is drawing quite a crowd is the ability to play from home rather than in the past when a brick and mortar casino was necessary to enjoy this game. At home you can use the Auto Play feature for hands free gaming...causing the plays to speed along or go slower.
Double Exposure Blackjack rules
Double Exposure blackjack is played with eight decks of 52 playing cards. After each round of play the cards are randomly shuffled. The object of the game is to beat the dealer by getting 21 or under but higher than the dealer's total, or by staying under a total of 21 while the dealer "busts."
The biggest difference between Double Exposure blackjack and other blackjack is that both of the dealer's cards are dealt face-up forcing play on cards that have already been revealed. You are not allowed to check hole cards and there is no insurance available. This is good news for the player, since insurance is a bad percentage play to begin with. It's OK to split but that option includes splitting ten-value cards. You can split up to three times. The exception to this is split Aces, to which only one card can be drawn.
The minimum bet is a buck and the max wager is $200. Double Exposure Blackjack is a nice change of pace from the other blackjack games. The fact that all cards are exposed is an advantage to the player but as stated earlier the house is going to make sure they are covered and get the odds more even.
Double Exposure Blackjack...the time is now! Play it at Ladbrokes casino