Ladies' Theme-Based Slots
There has been a significant increase in the number of women playing at online casinos. It's no wonder, with all of the new and fascinating games available it certainly beats traveling on a bus to Atlantic City for 5 hours of game play. Today, from the comfort of their home, women can participate in poker, blackjack, bingo, and keno. However, the vast majority of women play slots. To this end, we would like to showcase some Ladies' theme-based slots, some that have become the most popular slots among women.
Lady Luck Slots
Ladies night out has never been this hot! And on the reels the diamonds dripping, Rubies flashing, heart shaped, diamond shaped, clubs shaped, star shaped and green four leafed clover shaped (for special luck) gems just sparkling and twinkling - any girls dream. And when you hit the jackpot it's the Lady Luck Symbol appears five times your jack pot is whopping €250,000 reward for playing this game. Now ladies line up you all have chance to hit this jackpot, is not exclusive or one off.
The coin symbol with the word bonus scattered across the reels to give you those glittering wins, and the wild horses left their shoe behind so when you see them on the reels more of that lovely money goes into your account. Scattered symbols gives you free spins and the collection of six diamonds which start accumulating each time the bonus symbols appears… Thus it's true Diamonds are a girl's best friend. This game is a must try and will definitely become a favorite. Play Lady Luck Slots at Lincoln Casino and Liberty Slots Casino .
Shopping Spree II Slots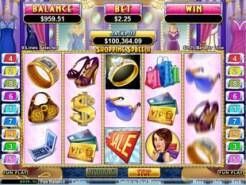 Sometime this week, Shopping Spree Slots will be released by RTG casinos. This slot game is fabulous, and we believe it will become a popular game for women. Shopping Spree Slots 2 is a progressive bonus video game with 5 reels and 9 paylines. It has 24 winning combinations, and the symbols reflect a typical day at a shopping mall. It has a coin size of 25 cents, with a maximum bet of 45 coins or $11.25. Bonus Features: Although Shopping Spree II does not have a wild symbol, it does have 2 scatter symbols: the Dollar Sign and the Mystery Grab Bag. To activate first bonus round, you need to get 3 Mystery Grab Bags. This will take you to the pick until pop bonus game. The second bonus game is activated during regular game play. Get 3 Dollar Signs and you can win up to 350 credits! Shopping Spree II Slots is open to US players and can be played at: Win Palace Casino , Silver Oak Casino , and Bovada Casino .
Wealth Spa Slots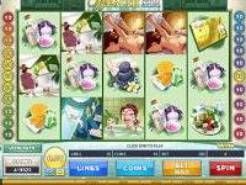 Released this past August, Wealth Spa Slots is the perfect slot game for women who enjoy being pampered. This slot game has all the ingredients that make-up a pleasurable experience at a health spa. Wealth Spa Slots is a bonus video slot game with 5 reels and 20 paylines. More importantly, however, it is filled with unique and exciting features you won't find in most slot games. With a coin size ranging from one cent to 5 cents, there are 36 winning combinations and a jackpot of 5000 coins. The maximum bet is $10. Bonus Features: The Wealth Spa Symbol is wild and the Gold Car Member symbol is the scatter. Now here is where this game gets interesting! During game play, you will be able to collect one or more Token symbols. It is the token symbols that activate 5 bonus games. The games are: Smoothie, Hot Stone, Body Wax, Bath Oil, and Massage. Depending on which "spa treatment" you would most like to receive, you apply the token accordingly. Moreover, each bonus game features additional surprises! Play this fabulous game at All Slots Casino or Ladbrokes Casino today!
Diamond Dozen Slots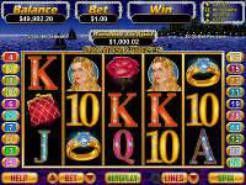 We all know that diamonds are a girl's best friend, but when you play Diamond Dozen Slots you are in for a bigger treat! Diamond Dozen slots is a progressive bonus video slot game with 5 reels and 20 paylines. The symbols include all things diamond, and there are 33 winning combinations. The coin size ranges from one cent to $5, and the jackpot is 3000 coins. The maximum bet is $100. Bonus Features: The White Diamond is the wild symbol, and the Blue Diamond is the scatter symbol. To activate the Free Spins Bonus Round, you need to get 3 or more Blue Diamonds in order to win 12 free spins. All winnings are doubled, and there is a retrigger feature to obtain additional spins. Diamond Dozen Slots can be played at: Bovada Casino , Silver Oak Casino , and SlotoCash Casino .
Big Shot Slots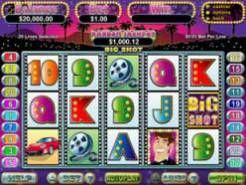 There's always something going on in the lives of movie stars. Recent bombshell news has made this quite clear. But in the world of online slots, one can take a more subtle approach by playing Big Shot Slots , a movie star theme-based slots that you can enjoy without all the gossip attached to it. A 5-reel, 20-payline progressive video bonus slot, you can vie for the jackpot utilizing various bonus features including: wilds, scatters, and up to 20 free spins that will triple your trigger bet. Of course, movies don't come cheap these days, and this slot has a max bet of $100. But you can get around that by using any one of the many coin denominations available. Now keep in mind this is a random progressive jackpot slot, so we recommend you bet the max to get the full value out of this slot game! This "star studded" slot game has all the razzle dazzle you'd expect to find in this genre, so enjoy the show and win! Play Big Shot Slots at Silver Oak Casino .